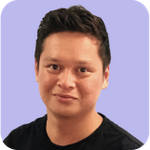 Updated by George Britten
Gantt Table
The Gantt Table is the most efficient place to add detail to your plan - a big upgrade to those clunks spreadsheets! Aphex simplifies the process of detailing plans with Required Fields, the most important pieces of information to detail your plan with. These can be found at the top of your Column Picker or from the keyboard shortcut CTRL + 2.
There are six groups of columns reflecting different information:
| | |
| --- | --- |
| Required Fields | These required fields of data have been configured as the minimum level of detail expected in your project's plans and will comprise of a collection of the below columns |
| Time | Time data includes all the basics (Start, Finish, Duration, Calendar and Shift) and are mandatory for all tasks |
| Team | Team data includes Owner, every task has a single owner in the lookahead, driving accountability of work |
| Resources | Resources data is all about the people and resource required for the work and includes Subcontractor, Labour, Plant and Materials |
| Map | Map data is all about visualising the work areas of tasks in the plan by assigning a Location and drawing a Work Area |
| Structure | Structure data relates to grouping of work and where work can be found in the overall plan WBS, External ID, Package and Parent |
| Communication | Communication data includes Notes, and is all about communicating additional information to the project |
Each Column contains a data type impacting how you interact with the table, there are five data types:
| | | |
| --- | --- | --- |
| Dates | Labelled with a calendar icon, this data can be configured by either manually entering dates, or using the date picker | |
| Number | Labelled with a hash "#" icon, this data can be configured by entering an integer, you can also use the arrows on the right of the cell to scroll up and down in value | |
| Drop-down | Labelled with a downward facing arrowhead icon, this data can only be selected from the drop-down list containing your project's predetermined list of Project Assets, you can also search the list | |
| Pop-out | Labelled with a diagonal arrow icon, this data will prompt a pop-out to appear where you can interact with your project's predetermined Project Assets | |
| Text | Labelled with a text "Ag" icon, this data can be configured by entering text | |
Workspace
Construction project plans can be incredibly complex, especially when project teams and the scope of work delivered grows. Your Workspace is your familiar part of the plan that contains the work that is most important to you. By default, you will always see work that you own on the Gantt but if you're working in a team, Teams can be created to view work owned by others on the project that you work with.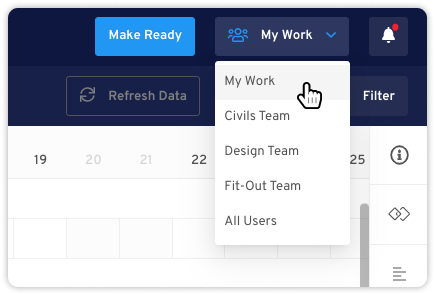 Viewport
Your Viewport is the slice in time that is accessible on your Gantt, allowing you to focus on work occurring over a specific period of time. To stay focused on the short-term plan your Viewport will default to your Lookahead Period, configured in Project Settings. You can edit your Viewport from the Viewport Control in the top-left of the Gantt. Here you'll find a Date Picker in addition to the ability to quickly switch from your Lookahead to All Future Tasks.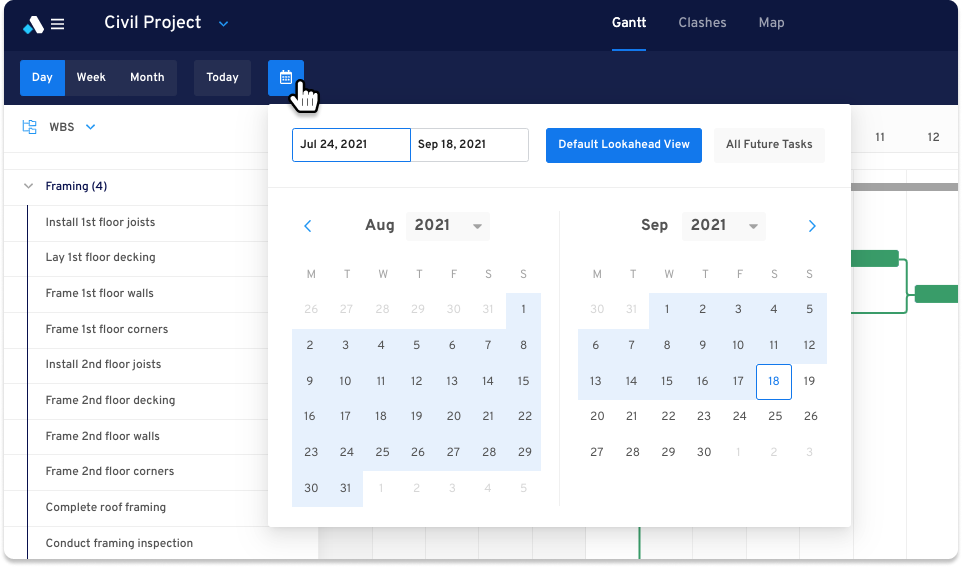 To visualise and communicate longer-term impact of the short-term plan it's possible to zoom out from Day to Week and even Month view using the Zoom Controls in the top-left of your Gantt.

Structure
Customising how your plan looks is crucial to being able to clearly display changes to the plan, understand the level of resources needed where and when, and ultimately to communicate effectively with different audiences at different times. Work on your Gantt can be organised and viewed using two types of structure: Work Breakdown Structure (WBS) and Packages. Both of these structures are Project Assets that need to be created before they can be assigned to tasks in your plan.
Once assigned, you can view work in your WBS or Packages structure, and also have the option to view work grouped by Owner in either of these structures. Use the Structure selection in the top-left of your plan to change the structure of your work.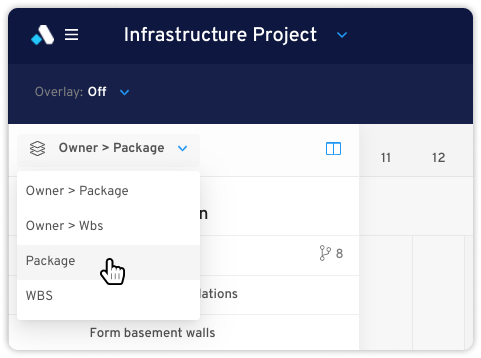 Filter
The Gantt's Filter is a powerful way to drill-down into work, so you can quickly focus on key information in your plan. You can easily narrow down to a sequence of work delivered by a Subcontractor, grouped into a Package or part of the WBS, requiring a particular Resource, or planned across a physical Location, Shift and Calendar.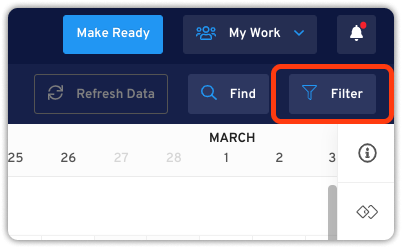 Overlays
Many construction project plans can contain a lot of information, and not all that information is needed at any one point in time. In fact, most information isn't needed until a specific point, for example a comparative baseline is only useful when you're interested in understanding performance. Using Overlays you can layer different types of information onto your Gantt.
By default when no Overlay is applied clashes and delays are visually brought to the forefront. The colour of Task Bars represents performance and clashes in the plan:
Green task bars in the past represent work that has been actualised or locked in, and gone to plan
Grey task bars in the past represent work that has been delayed, delay impact indicated to the right of your task bar
Dotted Line task bars in the past represent work that has had a delayed start, delay impact indicated to the right of your task bar
Coloured task bars in the future represent planned work, in each Aphex Users' Profile Colour
Red task bars in the future represent planned work that is currently clashing with another task
The Overlays Menu can be accessed from the eye icon in the bottom right of your Gantt, you have the option to pick from three overlays, each bringing specific information to the forefront of the plan.
Baseline Overlay
Baselines are a tried and tested method of understanding changes made to the plan. This overlay simply shows you the variance in start and end date (calendar days), between two points in time, for each activity.
Aphex automatically creates baselines when;
You can view baselines on your Gantt through the Baseline Overlay, accessible on both live & published versions of the plan.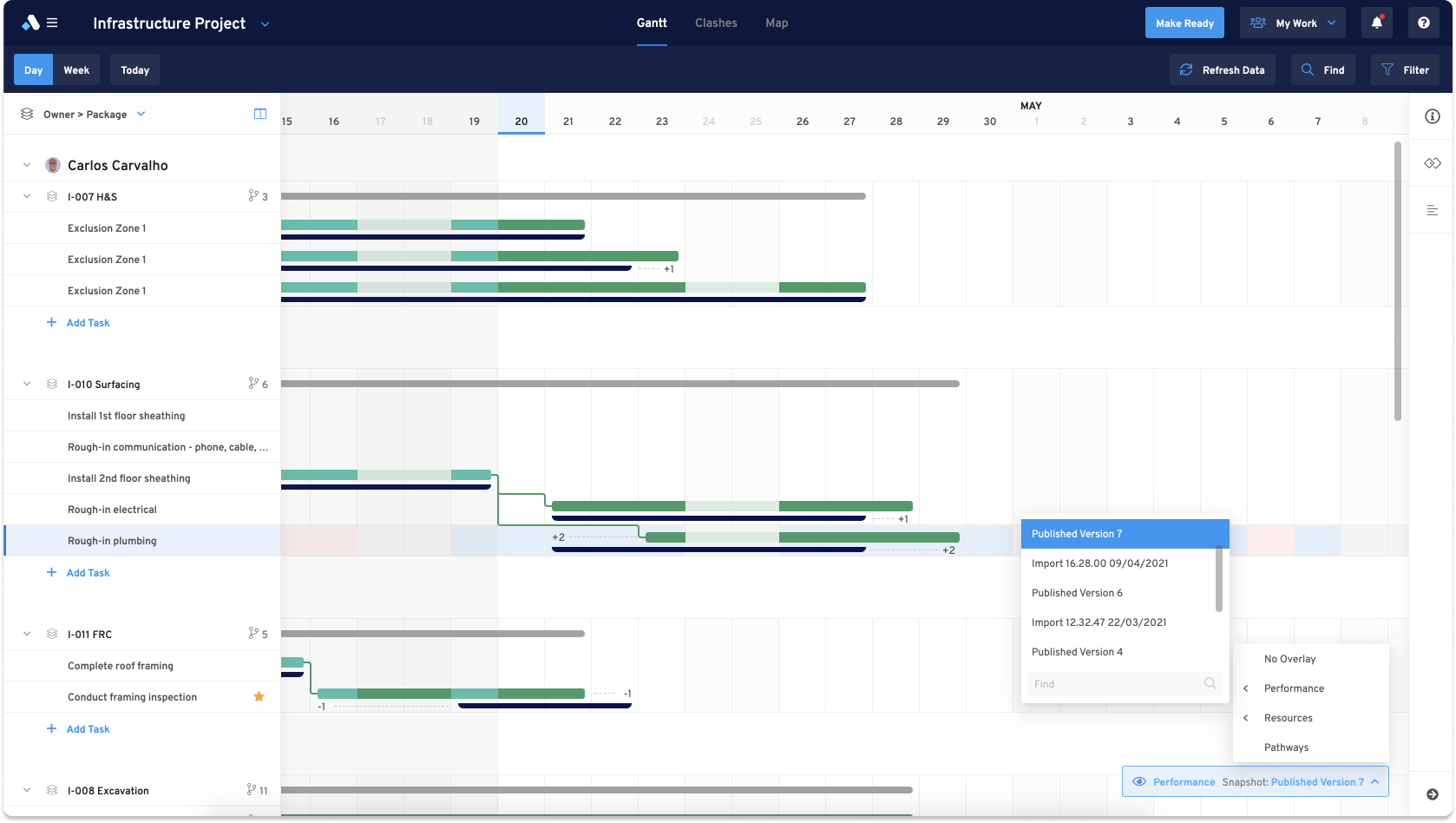 The second narrower, dark task bar beneath each task bar indicates the state of the task at the point of the baseline, with variance in start and end date indicated in calendar days each side of the bar.
Aphex will store all of your baselines, provided you do not delete any published versions. If you're on a Starter Plan, you'll be able to access baselines that fall within the last 30 days.
Resources Overlay
The Resource Overlay can be used to understand resource allocation across the plan, which contractor is responsible for the work and to effectively communicate to the supply chain what resources need mobilising to deliver the work.
Applying one of the three resource overlays, Labour, Plant or Material, colours the task bars in Subcontractor Colours. Daily planned quantities are displayed across the dates at the top of your screen, hovering your cursor over these will indicate the full detailed breakdown of allocated resources. Resource icons to the right of each task bar will display the task's planned resource quantities, hovering over these will indicate the full detailed breakdown of allocated resources.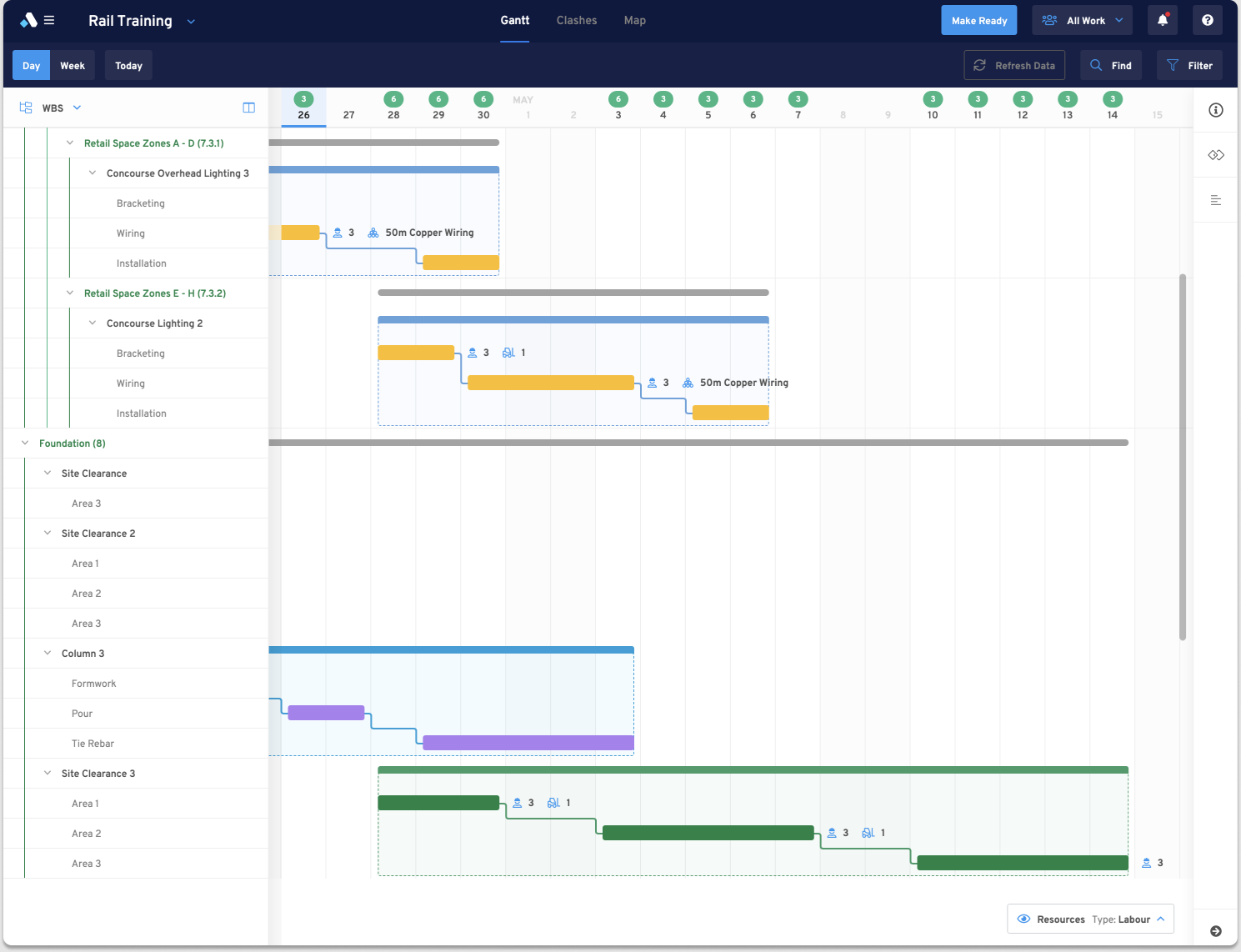 Pathways Overlay
Projects move fast and change every day. Using milestones helps to simplify and summarise the tracking of schedule performance. Milestones usually represent finish or handover dates but can also be used for different sections of the plan to promote focus.
On Aphex, you can create or import Key Activities, unlocking the ability to run critical path analysis across your short-term plan using this Overlay.
Key Activities: A gold star icon will appear to the right of the Key Activity's Task Bar and in its name column
Short-term Critical Paths: Tasks along the short-term critical path to a Key Activity will appear in gold
Non-Critical Path: Tasks not along the short-term critical path appear in blue, float is indicated in a blue circle to the right of the task bar