Updated by Chloe Haynes
Customising how your plan looks is crucial in being able to clearly display changes to the plan, understand the level of resources needed where and when, and ultimately to communicate effectively with different audiences at different times.
Knowing how to visualise key information is essential for your own work too. If you've worked a 10 hour shift on site in the snow and you're wanting to double check tomorrow, you don't want to be faffing around with a gantt in the dark!
We might not be Bob Ross, but using Aphex gives you lots of tools to really paint the picture you need, as well as built in methods to collaborate and communicate too.
Scope and Structure
Running through the five elements below give you control over how much of your plan you're looking at, while being able to keep it simple and see things your way - or in a way that makes sense for the group you're communicating with.
Set your Workspace
Decide on the Structure
Apply any Filters
Expand or shrink the Date Range
Sort your work
Applying Overlays
Using the Overlay options on Aphex, you can clearly highlight and focus attention in on issues, whilst also having the tools to solve them nearby.
Found by clicking on the blue eye icon in the bottom right of your screen, you have the option to pick from three overlays, each bringing value and clarity depending on what you're seeking to communicate, or understand about your project. Equally, choosing not to apply an Overlay can bring specific information to the forefront of the plan too.
Baselines Overlay
Baselines are a tried and tested method of understanding changes made to the plan. This overlay simply shows you the variance in start and end date (calendar days), between two points in time, for each activity.
Aphex automatically creates baselines when;
You can view baselines on your Aphex project through the *Performance Overlay*, accessible on both live & published versions of the plan.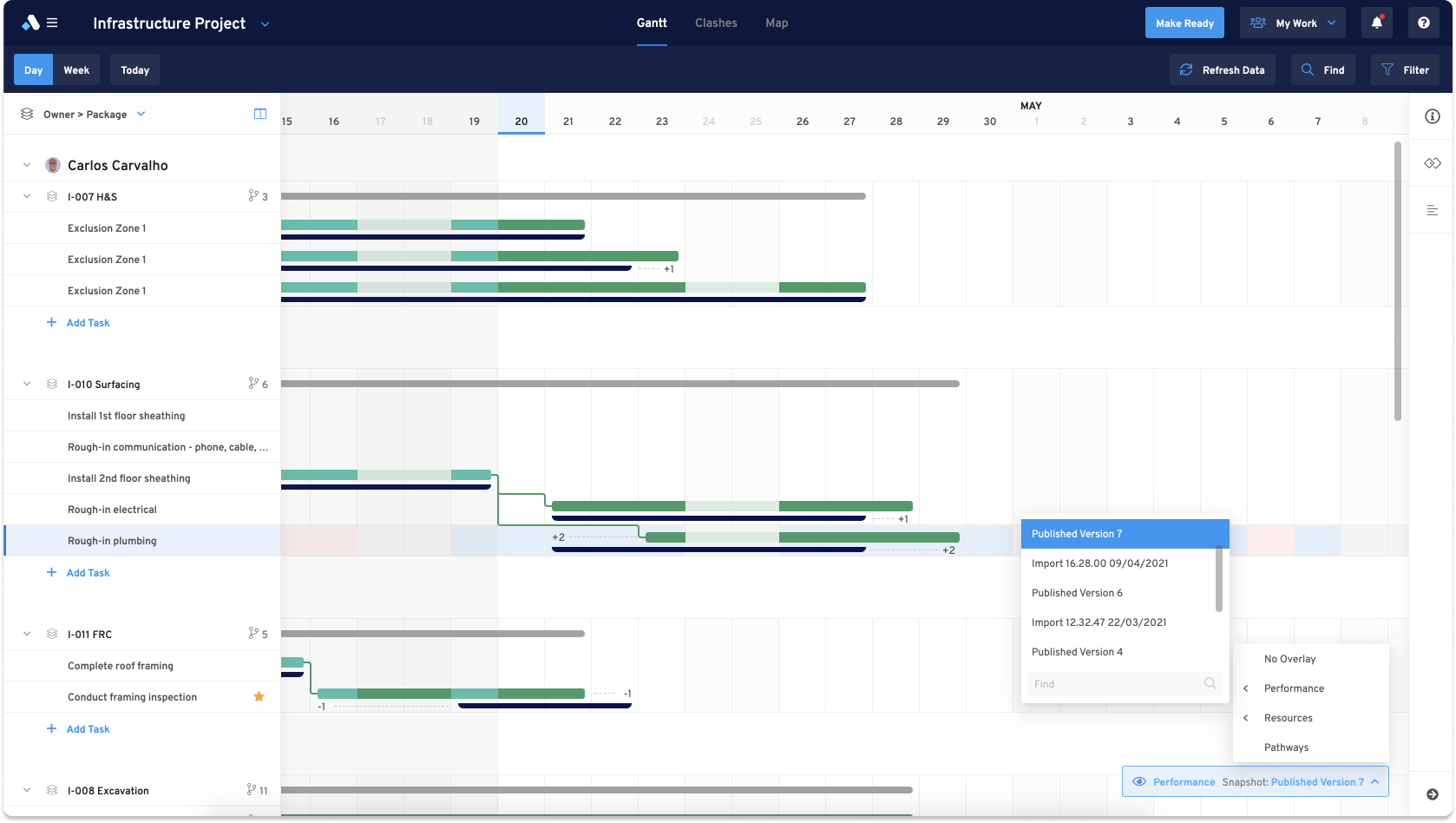 We will store all of your baselines, provided you do not delete any published versions. If you're on a Starter Plan, you'll be able to access baselines which fall within the last 30 days.
The variance displayed on the baseline is in calendar days (Not working days!)
Resources Overlay
Understand the resources needed to deliver your plan over the lookahead period and where responsibility lies. This information is *assigned to the plan* as members of your team fill out and detail their work.
Applying one of the three resource overlays colours the plan or map view to reflect which subcontractor is responsible for each task. You have the choice over whether to display quantities of labour, plant or material across the date bar, to clearly convey what is expected to be on site and when.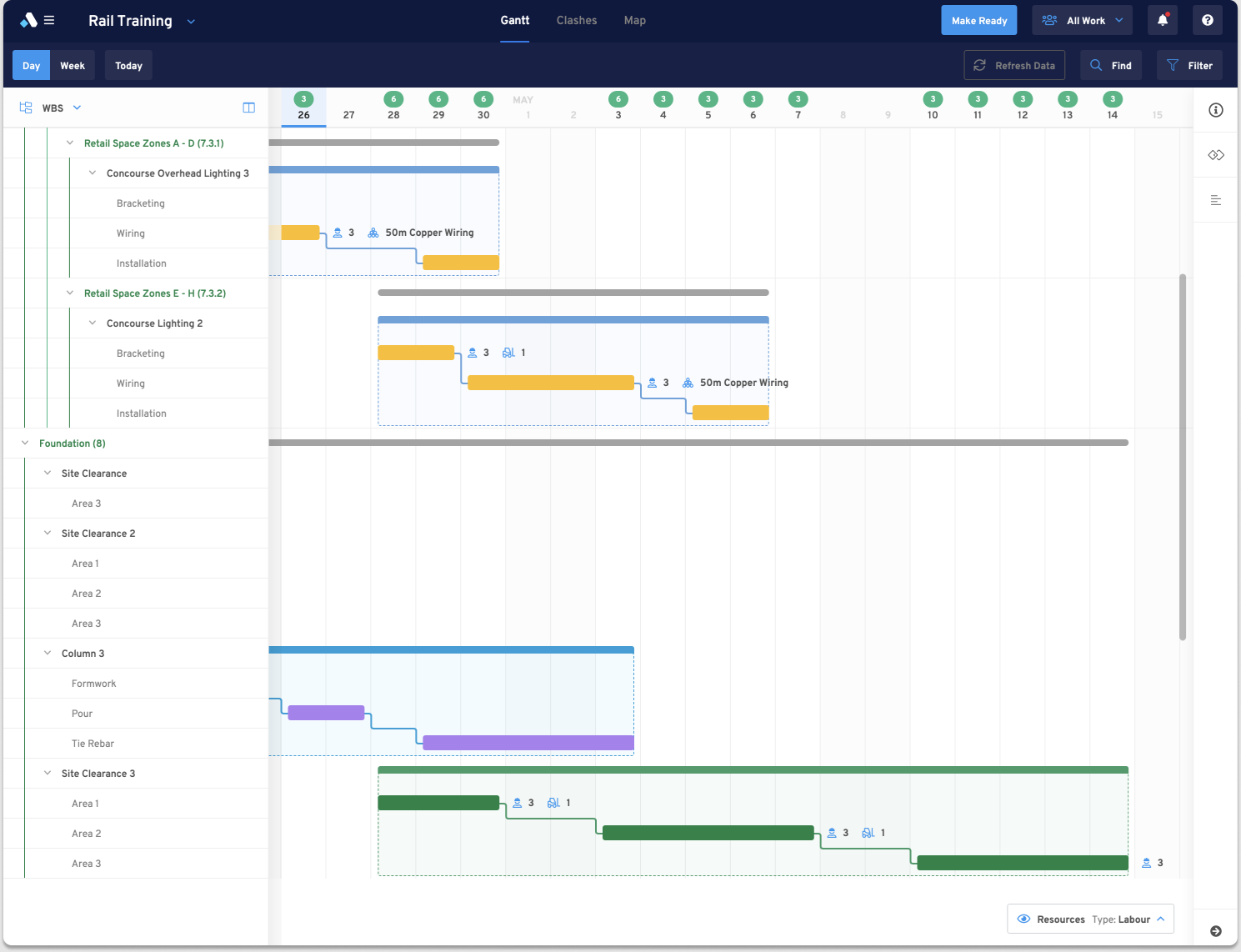 You might be communicating the plan out to supply chain and want to really clearly convey what is happening where. Or maybe you're projecting the live plan from Aphex, to run through a start of shift briefing. Resource flat laying is also a useful exercise in understanding how close to site caps your scheduled work is running.
Pathways Overlay
Projects move fast and change every day. Using milestones helps to simplify and summarise the tracking of schedule performance. Milestones usually represent finish or handover dates but can also be used for different sections of the plan to get a more insight.
On Aphex, you can create or import milestones, which are then referred to in app as Key Activities. Using Key Activities unlocks the ability to run critical path analysis across your short term plan using this Overlay:

Key Activities: A gold star icon will appear on the cell of the target date
Critical Paths: Tasks on critical path to a Key Activity will appear in gold
No Overlay
Choosing not to apply an Overlay can help you focus on the current state of the plan, and bring visualisations of clashes and delays to the forefront. The colour breakdown without any Overlay is as follows when you're looking at the Gantt tab:
Green bars in the past represent work that has been 'actualised' or locked in, and gone to plan
Black bars in the past represent work that has suffered full days of delay
Shadow bars in the past represent work that was scheduled but shifted out due to a late start delay
Coloured bars in the future represent planned work, in Aphex Users' chosen profile colour
Red bars in the future represent planned work that is currently clashing with another task
Maps
Visualising work on site maps, or location sketches is perfect for communicating plans to site. Sequence maps can be used in start of shift briefings and on notice boards across the site.
Head to the Map tab and apply your chosen resource overlay from the eye icon in the bottom right hand corner of the screen: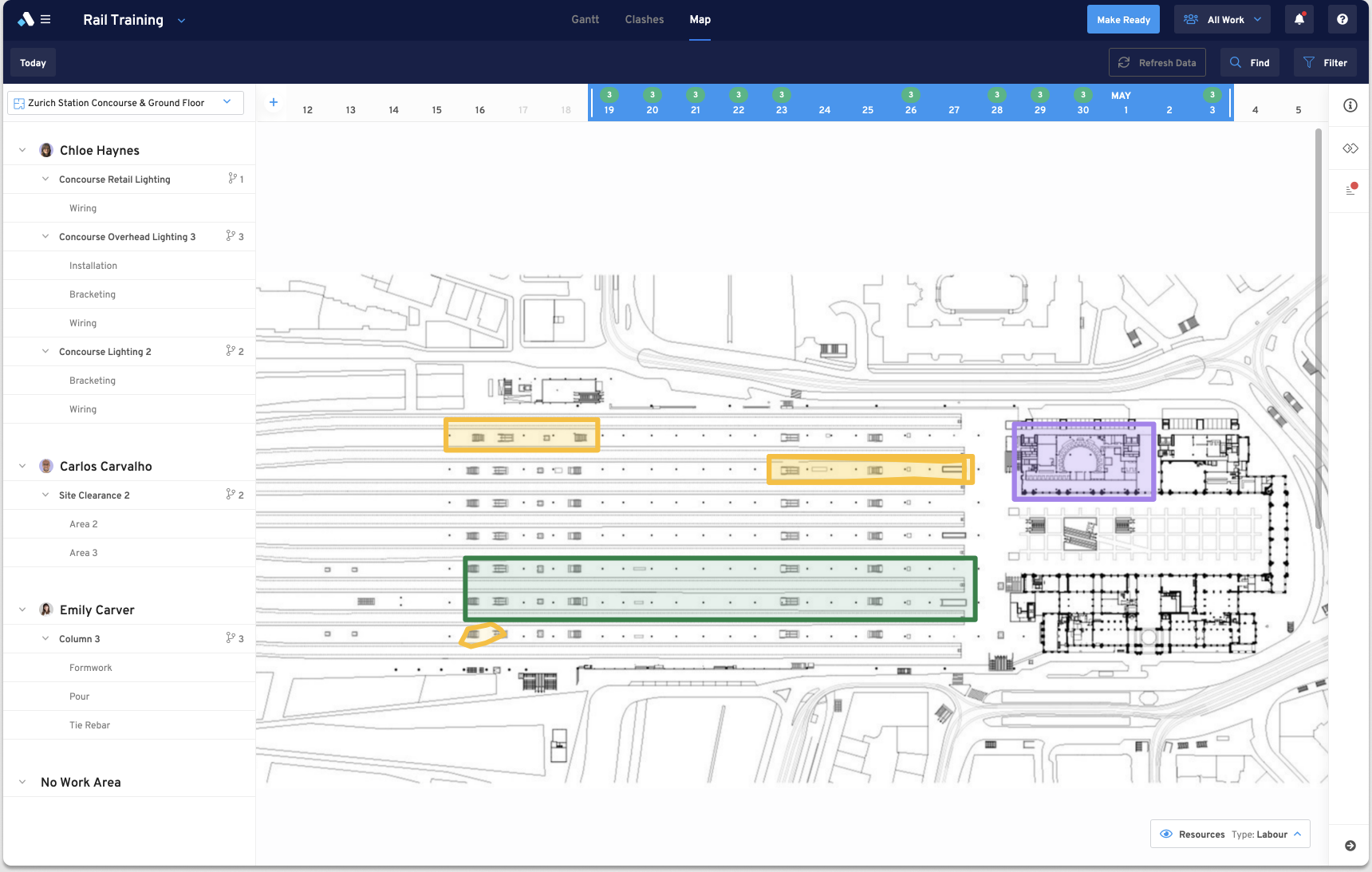 Sharing Visualised Plans
After deciding on the best approach to sharing your plan, you might need to send out a copy, rather than invite people to the project or present the live plan in person.
For this, you can either opt to customise how the published version looks as above, and then share an interactive version. In this option, recipients will also have the freedom to play with the visualisation elements too.
For sharing printed outputs, your options around visualising key information come from pressing share in the top right, and then selecting from the options available in the pop out: