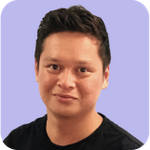 Updated by George Britten
On Aphex, team members who own work in the lookahead make their plans Ready to let the rest of the project know work has been reviewed, updated, detailed and is good to go. You can Ready Your Plan in the top-right of your Aphex Planner project.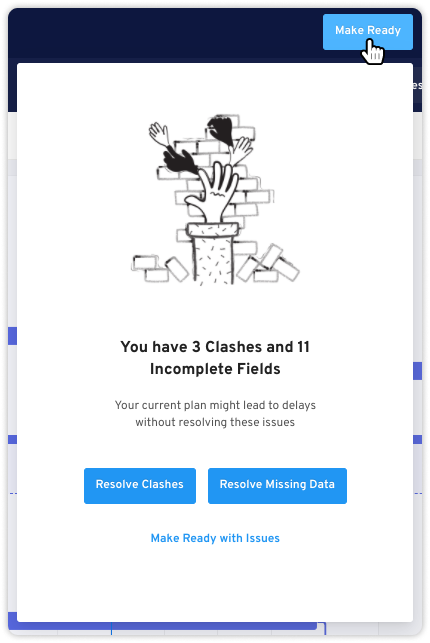 After Readying Your Plan and prior to the plan being Published, any edits to your plan will un-ready your work, requiring you to ready it again.
Before Readying Your Plan, you will be prompted to resolve any issues in your work. On Aphex, there are two types of issues: Missing Data and Clashes.
Completing Missing Data
Aphex will help check your work for missing information, and show you a detailed breakdown of missing fields of data in Your Missing Data Panel, found on the right of your Aphex Planner project.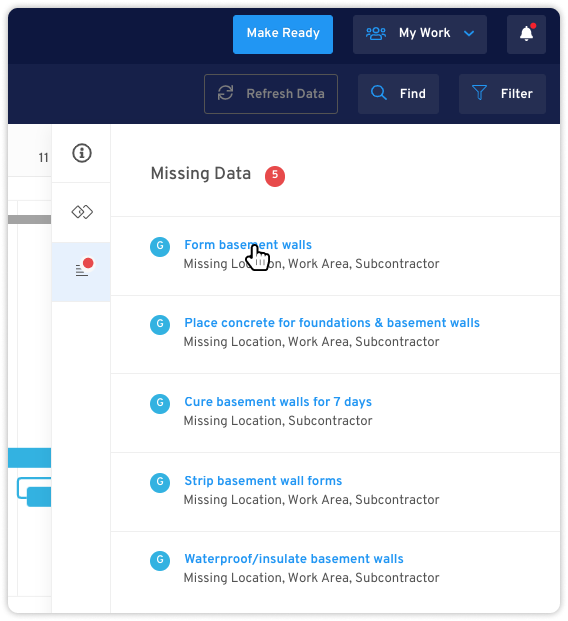 Here you can work your way through the list of tasks in your lookahead with missing fields of data, against your project's Required Fields.
Resolving Physical Clashes
When multiple tasks in the lookahead are planned in the same physical location at the same time a Clash will occur, prompting communication and a resolution. On your Gantt, clashing tasks will have a red Task Bar colour. Clashing tasks in your work will be listed in your Clashes Panel, found on the right of your Aphex Planner project.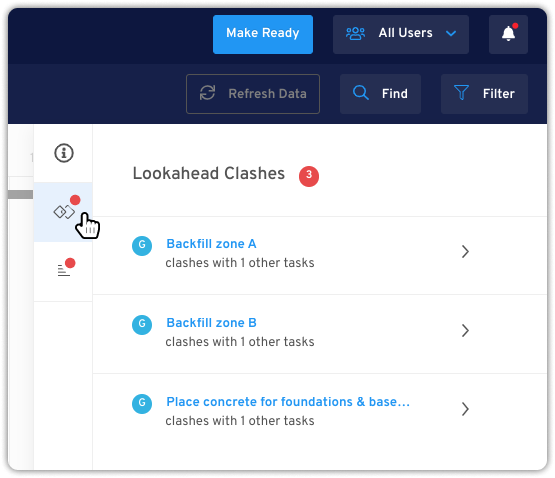 From here you can work your way through clashing tasks in the lookahead, click on a clashing task to open the task's Inspect Panel to take actions to resolve the clash, editing dates or a work area.
Once you've resolved clashes in your work, you can navigate to the Clashes page to view and resolve Clashes that exist between your work and the work of your team.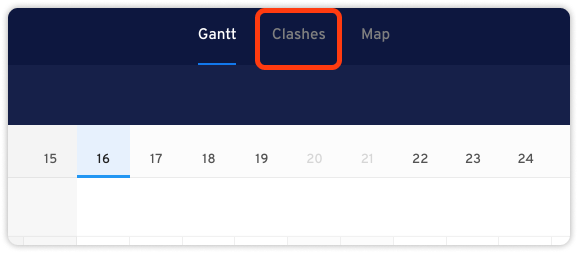 When your work is clashing with work owned by another member of the team, you can resolve the clash by editing your task or requesting the clashing task's owner to take an action from the Clash section of your task's Inspect Panel. You can request for a Work Area to be edited, dates to be edited or to mark the clash as non-conflicting.